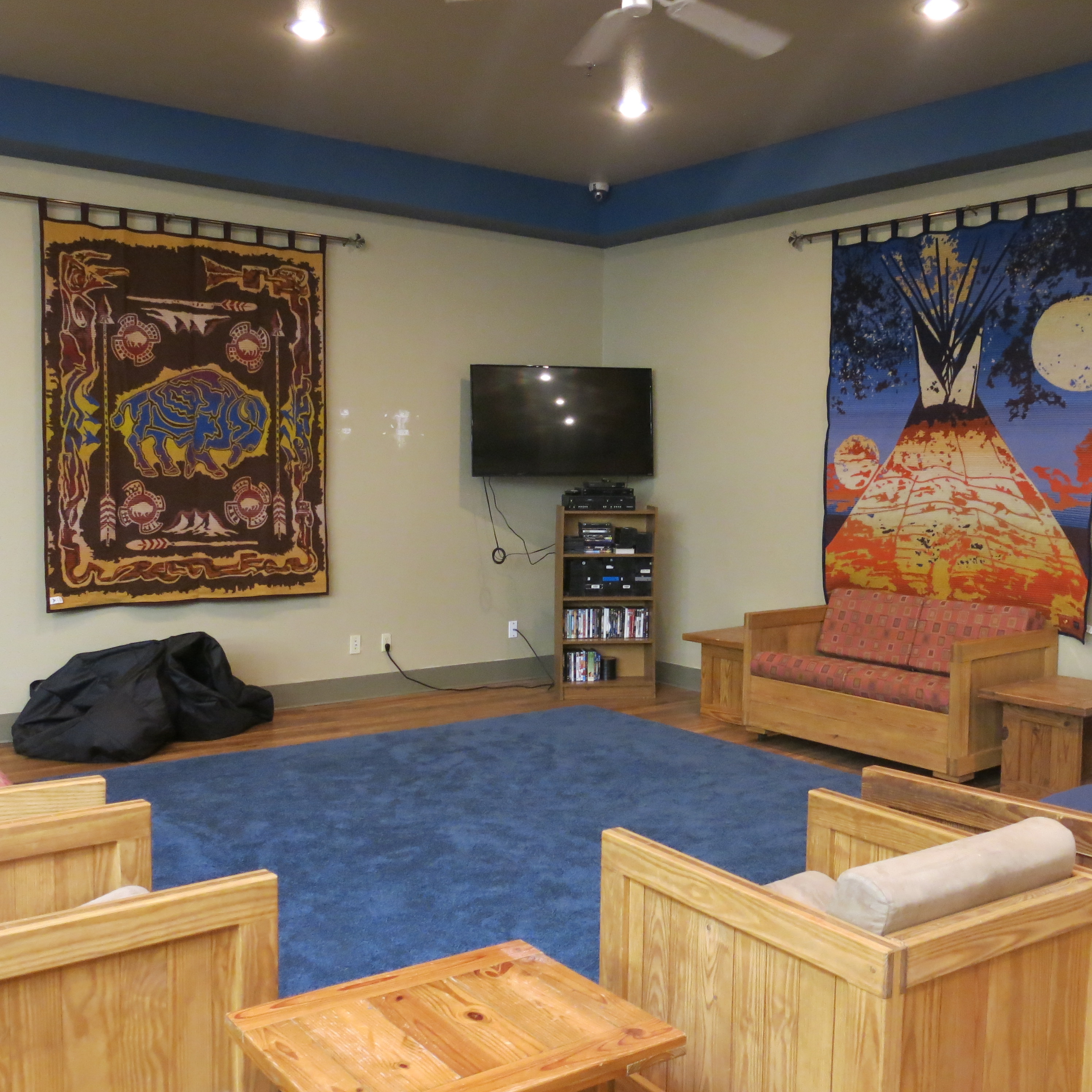 The Sacred Heart Center Child Services (SHCCS) program is a residential group care facility licensed by the state of South Dakota.  SHCCS is licensed to provide services for a maximum of 16 youth residents, ages 10 to 17 years, and is structured to provide services in a community-based environment.  The youth residents, both boys and girls, receive 24-hour, 7-day-a-week supervision and services from trained staff members.  Residents continue to attend their current school when possible or are enrolled at the Cheyenne-Eagle Butte School.
SHCCS includes a variety of strength-based program elements and alternative services in order to assist the youth in developing the skills necessary to successfully return to their home, kinship home, foster home, or alternative living facility.  One key element to the success of the youth is active involvement and encouragement from staff, family members, and placing agencies.  It is the policy of the program for staff to work individually with the youth, in order to assist them in meeting treatment goals and discharge plans.
---
Services
Group Care Services
Short-Term Assessment Services
Community Reintegration Services
Crisis Stabilization Services
Respite Care Services 
Child Services Referral Application
Additional Services:
All residents receive treatment procedures which include:
Educational Groups – Depending upon the specific needs of the youth clients currently in the program, various educational groups are held which may include topics such as Self Esteem, Anger Management, Health and Wellness, Sexuality, and Independent Living Skills.  Other groups may be provided by specialists employed by other organizations within the community as needed.
"Resolve a Problem" – Informal "Resolve a Problem" groups referred to as "RAP"s may be called at any point in time by a client or a staff member, in order to address an issue, concern, conflict, or disagreement within the facility setting or involving the clients.  If a client would like to call the group together for a RAP, they must advise the staff of the nature of the problem in order to receive prior approval to call the RAP.  The staff determines if the issue is appropriate for the entire group to be involved in and address.  RAPs take precedence over the existing schedule and are meant to be brief in duration.  Staff facilitates the RAP with the clients, in order to help ensure that the RAP is focused and solves the problem.
Independent Living Skills – Youth within the facility are also provided the opportunity to learn basic living skills.  Examples include maintaining a clean living space, completing their own laundry, and following a routine schedule.  The youth also assist with the preparation of meals, in order to learn basic cooking skills as well as the importance of balanced meals.  Child Services staff will assist youth residents who are 14 years of age or older and have reached the appropriate level of the Child Services program, to seek employment and/or volunteer opportunities within the community.  Prior approval from the child's placing agency is required for the youth to seek a place of employment.
Cultural Resources – All clients participate in a Cultural Resource Group and/or cultural activity when there is an opportunity in the community.  Youth learn traditional Native American games as well as other cultural traditions.  In addition, a supervised sweat lodge is available on the premises for those clients who choose to participate.

On-Site Counseling

– Residents participate in weekly Individual and Group Counseling at the SHCCS program.  Family counseling is available and offered when approved by the placing agency and deemed appropriate by the treatment team.  SHCCS also utilizes other local mental health agencies for counseling, if requested or if residents were receiving previous mental health services from an outside agency.

Individualized Case Management

– SHCCS has a full-time Case Manager on staff to work with residents and their treatment teams, to establish treatment and discharge plans.  The Case Manager works closely with all resources to coordinate services to best meet each resident's needs.

Opportunities for Family Involvement

– The SHCCS program works to actively involve residents' family members in their treatment plans, meetings, counseling, visits, etc, as possible and approved by placing agencies.
Community Involvement:
Sacred Heart Center Child Services program provides services in a community-based environment. All residents attend public school and utilize a variety of services from organizations within the community. All of the youth residents have the chance to participate in volunteer opportunities within the community, and residents who meet age and level requirements are encouraged to seek employment.