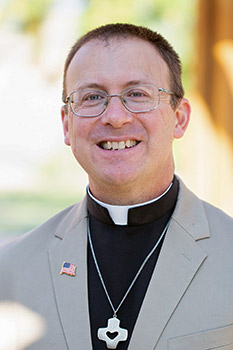 Fr. Gregory Schill, SCJ currently serves as chaplain and spiritual director at St. Joseph's Indian School in Chamberlain, SD.  He was born and raised in San Antonio, Texas and upon completion of high school, he served four years in the U.S. Marines before pursuing a bachelor's in Political Science at Southern Illinois University Edwardsville.
Fr. Gregory was later accepted into the religious congregation of the Priests of the Sacred Heart where he pursued his master's degree from the Catholic Theological Union in Chicago.  He was ordained to the priesthood in 2011 and was subsequently assigned to parish ministry in Mississippi beginning with four parishes and eventually serving six parishes.
In 2021, after ten years of serving in parish ministry, Fr. Gregory was assigned to St. Joseph's Indian School, which is his present assignment.  In addition to being on the Board of Directors for Sacred Heart Center, he also serves on the Board of Directors for St. Joseph's Indian school in conjunction with his role as local superior.  Fr. Gregory also serves on the Provincial Council, a role he began in February 2022 after serving for ten years on the province finance commission
Fr, Gregory Schill began serving as the Sacred Heart Center President of the Board of Directors in July 2022.